Every now and then I come across a shoe that I just cannot stop thinking about. I do not know if it is the approach of Fall or the obsession with colorful pieces this season, but this boot made me squeal!! I know, I know, typically I start off with the designer. Unfortunately I do not know much about her so I thought I would give her the best introduction I can think of, her work of art: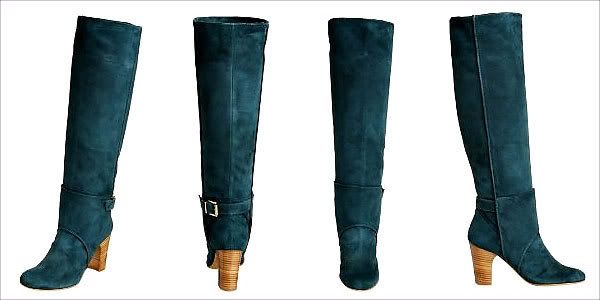 They are teal, tall, teal, suede, teal, GORGEOUS, and oh yeah, did I mention they are TEAL??!! It is a very strong opinion of mine that every woman have a great pair of tall shafted boots. They go with EVERYTHING - skirts, dresses, jeans (in which they can be worn under the pant leg or over), whatever your heart desires. And these beauties make a statement that is so fun, refreshing and chic. Are boots in any other color than black or brown for everyone? Not exactly. But I truly do think that a boot like this is so classic that just about every woman could pull it off in a stylish way.
And for the the unveiling of the designer:
Fay Baldock
. She designs for an awesome site called
Té Casan
. They feature limited edition designer shoes from basically the indie designers of the shoe world. The following is from Fay's bio:
"I don't think you really need to know it all to create something beautiful."
Ever mindful of the beauty of details, her shoes possess an understated thoughtfulness. Her aim: to create "one simple strong idea."
But don't let the straight face fool you. Her soft-spoken yet approachable demeanor is not unlike her work; confidently whole. A disciplined leather upper smirks with the perfect pleat. A scalloped heel complements a rounded toe. Or, in musical terms, she could be listening to Scotland's Belle and Sebastian one minute and Elvis the next.
Um, I pretty much love this girl!!! You can also find her shoes at
endless.com
.