For all of you fashionistas out there I am sure that you have been wondering when I was going to feature a certain Italian designer=) Well wait no more because this week's extraordinary heel is from the one and only Gucci.

Gucci was established in 1921 by Guccio Gucci. He was at the time living in Florence, a city that claims all of the master artists in Italy. By the 1940s the House of Gucci created the bamboo handbag which is one of it's mainstays still today. In the late 70s the company experienced a bit of a downfall. It was very close to bankruptcy and there were many conflicts within the company, most of which was caused by family quarrels. By 1983, however, the company was left to Gucci's grandson, who looked outside of the Gucci family to bring longevity to the business and end family conflicts.

Since that change in command the Gucci name has bounced back from near disaster to becoming one of the most sought after Italian labels. I remember my first trip to Chicago and standing in front of the Gucci store. I was mesmerized by the display of handbags, scarves and of course shoes. Of recent these beauties have caught that same admiration.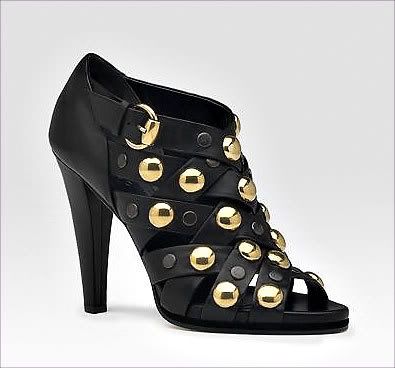 WOW! This is the shoe to grab when you feel like your outfit is missing a bit pizazz. The overall shape is very classic yet those studs put it into a category all of it's own. And you really would not think that a shoe that looks like this could be versatile, yet it is. This is why I love Gucci so much, Florence has a great reason to be proud. These beauties are available at
Saks Fifth Avenue
.