When it comes to evening shoes so many women trust the American designer, Stuart Weitzman. Of course Weitzman designs all styles of women's footwear but it his use of materials such as 14kt gold that makes his evening line stand out above the rest. Many brides choose his shoes for their big day for the comfort, style and somewhat lower price compared to other designers. With that being said I must also mention that Stuart Weitzman is the designer behind the "million dollar shoes" that is worn by a Oscar nominee every year.

I decided to go red this week for a couple of reasons. The first being that I have not yet featured this color and the second being that every girl needs a great red pair of shoes. Why, you may ask? Because they can take a neutral colored outfit from nice to WOW! And in so many ways red can be used as a neutral, making it a staple color. It is also so exciting to see that this great colored is mixed with the unexpected this season, like purple and blues.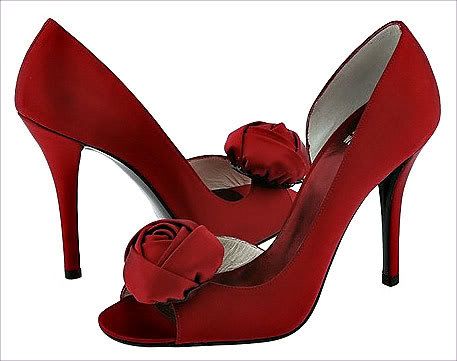 So next time you throw on that little black dress forego the black sandals and pull out those hot red shoes. And if you are looking to add to your collection check out these Pomposos at
Zappos
.