I find it hard to believe that I have yet to feature one of the most famous Italian designers, Valentino. I do not even know where to begin. His career is so infamous and his acknowledgments that still exist after his retirement are amazing! Known for his jet set look the collection is always sexy and always absolutely beautiful.

Many of you may recognize the name Valentino from television and newspapers. He has an excellent following of royalty, celebrities and socialites, all craving after his creations. You will often hear the term "Vintage Valentino" on the red carpet. His vintage designs are some of the most popular for young actresses to wear on their big Oscar night.

We are in NYC this week and I wanted this shoe post to be special. Classy, sexy and sophisticated, just like this amazing urban setting that we love so much. This shoe has it all: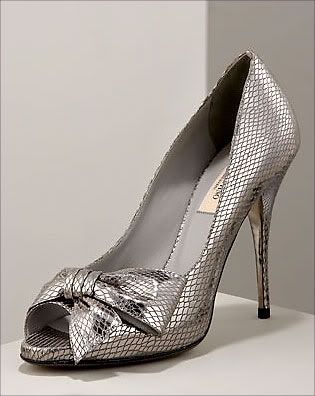 I love the overall shape of the shoe, that classic open toe pump. It is wrapped up in the most gorgeous sterling snakeskin I have ever seen! And just like wrapping a present, it is all about presentation. That pretty bow could not be more perfect. I am absolutely in love with this shoe! It is available at
Neiman Marcus
.