Giuseppe Zanotti is not exactly a designer that most know of, but believe me, you have seen these shoes on some of your favorite television shoes and movies. Remember the sushi scene in the Sex and the City movie (which comes out on DVD soon - YEAH!!!)? Well those sexy fish-bone stilettos worn by Samantha were designed but the one and only Giuseppe Zanotti.

Giuseppe Zanotti began making shoes in 1985 in San Mauro Pascoli, a small town in Italy. He freelanced for clothing and shoe companies for 10 years before opening up his own line, Giuseppe Zanotti. By 2001 business was strong enough to open a larger factory in that same small town which is now a shoe-making mecca.

The reason I love this designer so much is b/c he is committed to the shoe and the woman who wears it. He refuses to follow the trend of having his shoes made in China, like so many other premier designers out there. Italy is known for it's amazing shoe making craft and he intends to honor that. As for the women, he is quoted as saying: "When I design shoes I am aware of fashion but more so how it will appeal and apply to the women who wear them. I am creating shoes to empower women and my hope is that women have fun and feel sexy in Giuseppe Zanotti shoes." Empowerment, fun, sexy, well that pretty much sums up why I love shoes so much! Check out these beautiful shoes!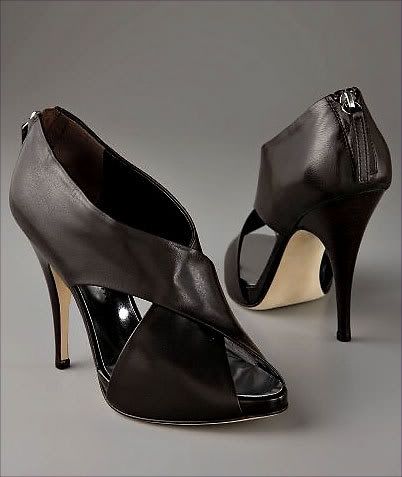 This may look like a hard trend to wear but actually the wide straps of the crisscross are very flattering on most foot sizes. For all of you girls with a little wider foot you may want to consider a shoe like this. It will not only narrow the look of your foot but make it appear leaner as well. I have seen this shoe in person and let's just say that the internet does it no justice, lol! You can learn more about this pair on
shopbop.com
.