This week I thought I would feature an American designer. I am sure most of you out there know of her, she has become a household name through her music career alone. She also makes all the world envious with her amazingly stylish family complete with gorgeous husband and two little ones. She is the one and only Gwen Stefani, the designer of L.A.M.B.

L.A.M.B is an acronym for Love. Angel. Music. Baby. This line was introduced in 1994 and has been going strong ever since. A path into fashion design for this songstress we not surprising after a lesson in her past. She is the fourth generation of women in her family to master the art of sewing. And in her humble beginnings of being on tour in very small venues she would design and sew all of her own outfits. Once success came she found herself no longer having to make her tour outfits and quite honestly started to lose a sense of her own style. That is where L.A.M.B was first thought of. It has gone through many changes since the beginning but one things has remained true. L.A.M.B. will always create something fun, different, even a bit questionable but most of all always very Gwen Stefani.

This week's shoe is such a great combo. Love the rivets, the color and that open-toe! Oh so unexpected yet so so FUN!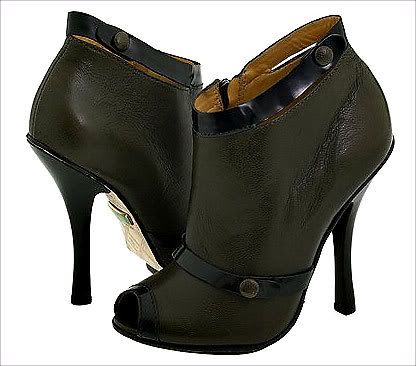 Thank you Gwen for giving the USA a cool designer to be proud of! These booties are FABULOUS! They can be found at
Couture.Zappos.com
.