While searching for this week's shoe I had CNN on in the background. They were of course recapping yesterday events which included the balls. I did not see many shoes but the gowns were incredible. When I came across this patriotic pair I could not help but wonder if these were hidden under a designer dress last night: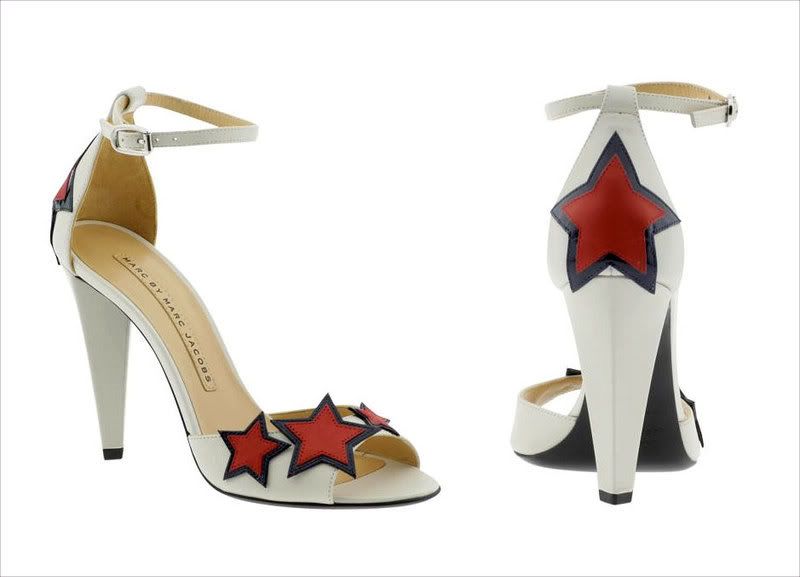 As far as a stars and stripes shoe goes there could not be a more appropriate creator than
Marc Jacobs
. Born, raised and schooled in NYC, Jacobs is an American designer that this country can be very proud of. Jacobs, like so many others, began working in a couture boutique before entering into the design world. After attending
Parsons The New School for Design
he landed a job at
Perry Ellis
. It was during this time that he designed an infamous "grunge" look (I am sure many of you remember this era in fashion history). In 1986 Jacobs designed his first collection under his own name. By 1987 he won the most prestigious award in the fashion world, The Council of Fashion Designers of America (CFDA) Perry Ellis Award for New Fashion Talent.
Jacobs designs are clean, simple and dramatic. I for one have been a fan for many years. They are fresh and different yet timeless. His marketing campaigns are also infamous for using interesting models like
Victoria Beckham
,
MIA
and
Sofia Coppola
. And oh yeah, he is also the creative director for
Louis Vuitton
. Pretty incredible if you ask me.
Obviously you would need to be in a patriotic mood while wearing these fun heels. I think they would make me feel like Wonder Woman except in fab stilettos as opposed to the red boots. There is something "comic book superhero" about them. If you feel like tuning into the super powers within you can find these at
Piperlime
.